ANXIOLYTIC INHALER
For a better patient experience!
1/3 Pain Relief & 2/3 Anxiety Relief - 5 Minutes
for patients receiving

minor office procedures, exams and injections.
_______
Human Use:

Approved in Canada, Australia and Europe, Not for sale in USA pending approval.
Animal Use:

Order Now, For Vet and Home Use, Available for sale in the USA and other countries.
(See Order Page)
HUMAN USE: Accessories (different ways to inhale the gas)
Mouthpiece

Use Inhaler 4000

Mask

Use Inhaler 3000

Nose Cannula

Use Inhaler 4000
INSTRUCTIONAL TRAINING VIDEOS
Heath Care Professionals
Inhalation Video for Patient - Mask Accessory (patient must be sitting up)
Inhalation Video for Patient - Nasal Cannula Accessory (patent can be in any position)
ANIMAL USE: Reloadable design for vets or disposable design for home use.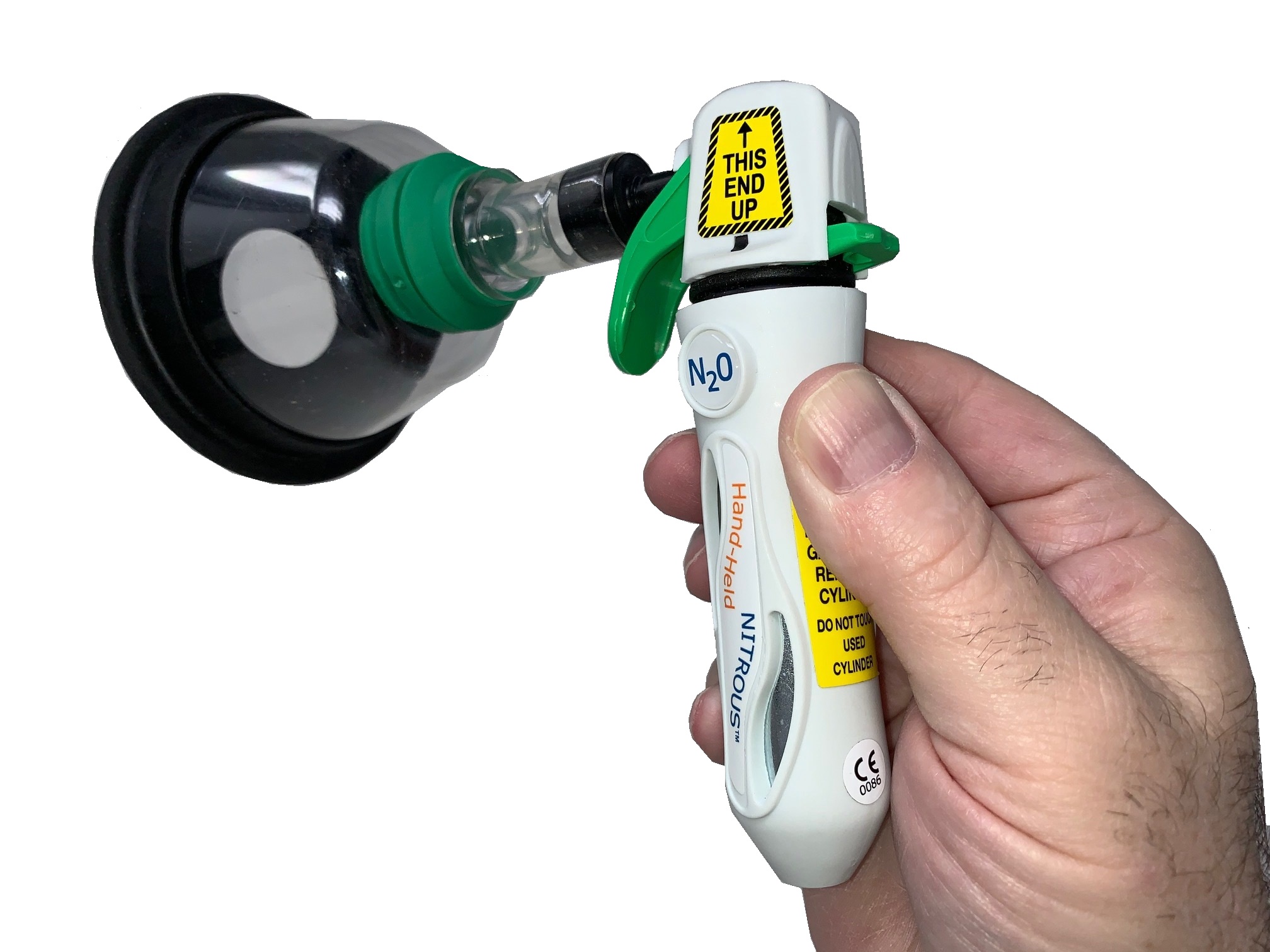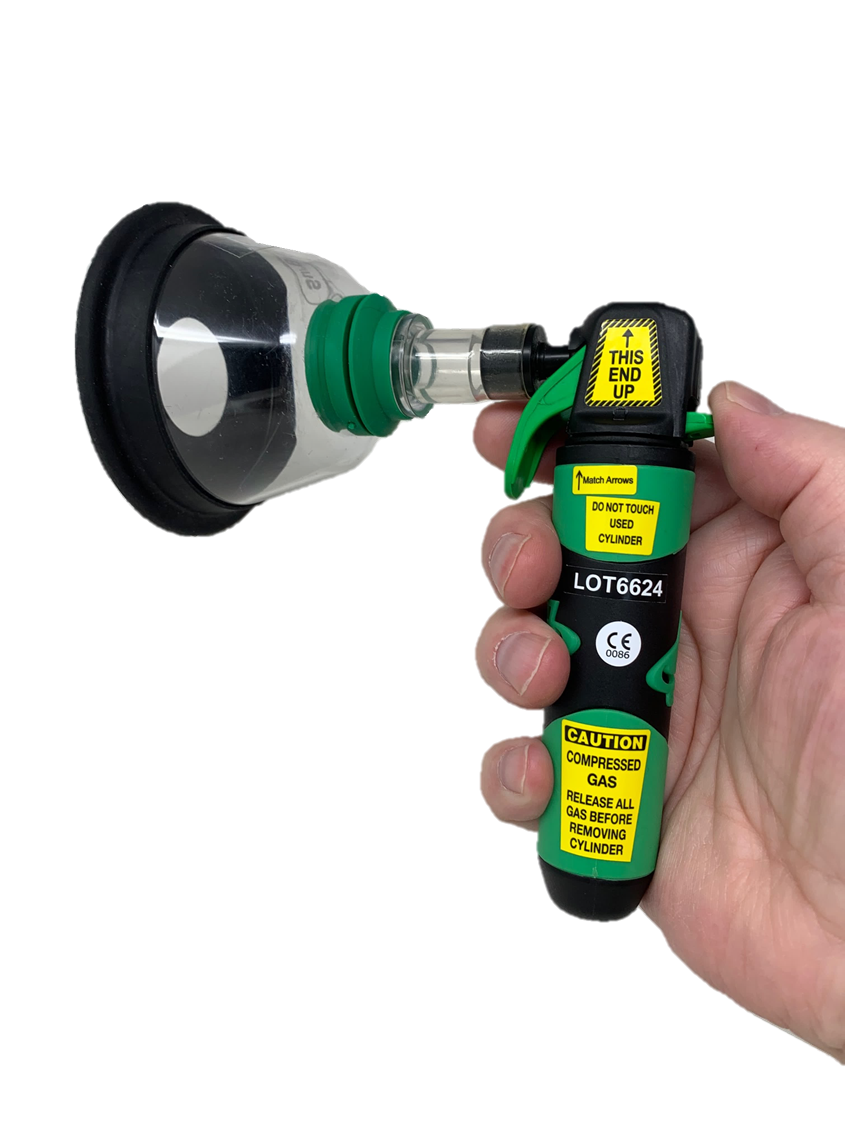 Benefits of Hand-Held Nitrous®
Effects last for 4 to 6 minutes per cylinder

Adults self-administer to themselves during procedure

Safe and Effective
No special anesthesia equipment or special training required

Patients recover in minutes

Tiny - fits in the pocket

Patient can stop inhalation any time

Easy to administer

No special training or certification required

Inexpensive

Powerful

Uses no electricity or batteries

Safe for administrator: Meets all OSHA and NIOSH exposure limits

No special evacuation plumbing required for the office

Uses USP medical grade nitrous oxide

Dispenser can be used up to 150 times
Clinical Study Human Use
| | |
| --- | --- |
| PRODUCTS - HUMAN USE | |
| | |
| DISPOSABLE INHALERS: PRE-LOADED WITH GAS | |
| 4000-DISP-MP | Inhaler, Pre-loaded Cylinder and Mouthpiece |
| 4000-DISP-NC-A | Inhaler, Pre-loaded Cylinder and ADULT Nasal Cannula |
| 4000-DISP-NC-P | Inhaler, Pre-loaded Cylinder and PEDIATRIC Nasal Cannula |
| 4000-DISP-M | Inhaler, Pre-loaded Cylinder and Mask |
| | |
| REUSABLE INHALERS (REFILLS REQUIRED) | |
| 3000-REUSE-MP/NC | Inhaler, Reusable for Mouthpiece or Nasal Cannula |
| 3000-REUSE-M | Inhaler, Reusable for Mask |
| | |
| REFILLS - FOR USE WITH 3000-REUSE MP/NC or M | |
| 5401 | Refill: Mouthpiece & 1 Cylinder (Use Inhaler 3000-REUSE-MP/NC) |
| 5402 | Refill: Mouthpiece & 2 Cylinders (Use 3000-REUSE-MP/NC) |
| 4601 | Refill: Adult Nose Cannula & 1 Cylinder (Use 3000-REUSE-MP/NC) |
| 4602 | Refill: Adult Nose Cannula & 2 Cylinders (Use 3000-REUSE-MP/NC) |
| 4701 | Refill: Pediatric Nose Cannula & 1 Cylinder (Use 3000-REUSE-MP/NC) |
| 3402 | Refill: Mask and 2 Cylinders (Use 3000-REUSE-M) |
| Note: Order any quantity minimim five (5) | |
| | |
| STARTER KITS - INCLUDES INHALER AND REFILLS | |
| 5401-*-1 | 1 Inhaler 4000, 5 Refills w Mouthpiece, 1 Cylinder |
| 5402-*-1 | 1 Inhaler 4000, 5 Refills w Mouthpiece, 2 Cylinders |
| 4601-*-1 | 1 Inhaler 4000, 5 Refills w Adult Nose Cannula, 1 Cylinder |
| 4602-*-1 | 1 Inhaler 4000, 5 Refills w Adult Nose Cannula, 2 Cylinders |
| 4701-*-1 | 1 Inhaler 4000, 5 Refills w Pediatric Nose Cannula, 1 Cylinder |
| 3402-*-1 | 1 Inhaler 3000, 5 Refills w Mask, 2 Cylinders |
| * Indicate quantity as 5 or 25 | |